Commercial Painting Hartford County, CT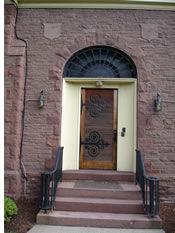 Our professional painters will exceed your company demands for quality painting, scheduled at your convenience, at a fair price. Kevin Palmer Painting has serviced the interior and exterior painting needs of the Greater Hartford business community for decades. A partial listing of the commercial painting work we do includes:
Interior and exterior painting and staining
New construction painting
Power washing and cleaning services
Maintenance painting
Maintenance painting programs
Office and retail painting
After-hours painting
Emergency painting services
Executive suite painting and staining services
OSHA safety color-coding painting
Warehouse painting
Airless spray painting
Brush and roller paint applications
Low odor painting and staining applications
Roof applications and preservative coatings
VOC compliant paint applications
Specialty coatings
Institutional & Commercial Painting Clients
Below is a list of some of our past and present commercial painting clients in Hartford County.
Avon, CT
Avon Congregational Church
AvonRidge
Bank of America
Darworth Company
Ensign Bickford Industries
Ensign Bickford Realty
FAVARH
Sovereign Bank
Thrifty Yankee
Bloomfield, CT
Bank of America
Church of Christ the King
Duncaster
Interfaith Village
First Congregational Church in Bloomfield
Johnson Gage
Old Saint Andrews Church
Sovereign Bank
Saint Stephens Episcopal Church
Canton, CT
Nassau's Furniture
Canton Center Church
Farmington, CT
Farmington Industrial Park
Heublein

Granby, CT
South Church of Granby

Hartford, CT
Chappelle Gardens
Connecticut Historical Commission
Connecticut Student Loan Foundation
Hartford Golf Club
Hartford Steam Boiler
Home Beautiful
Mark Twain Memorial
Sovereign Bank
University of Hartford
New Britain, CT
Stanley Works
Simsbury, CT
Bank of America
Dyno Nobel
Ensign Bickford Industries

Simsbury, CT (con't.)
Ensign Bickford Realty
First Church of Christ Simsbury
Masters School
Old Mill Lane Town Homes
Owen Murphy Apartments
Pine Hill Condominiums
Simsbury Volunteer Ambulance
Sovereign Bank Simsbury
Trinity Episcopal Church of Tariffville
Westminster School

West Hartford, CT
American School for the Deaf
Bank of America
Focus Research
Home Beautiful
Lerner Shops
Leroy's Keepsake Diamonds
Merrill Lynch
Merrill Lynch Realty
Mountain Commons Condominiums
Sovereign Bank
Westminster Presbyterian Church
Women's Exchange
Painting done by Kevin Palmer Painting looks better, lasts longer, and offers the ultimate in beauty and protection.